Did you know that teachers spend atleast 6 hours a week on grading alone?
But little did they know that there are so many free gradebook software available online to not only save teachers valuable time, but also help them to organize and track every students academic progress in one place.
What is a Gradebook Software?
A gradebook is a tool that helps teachers to easily manage students marks, track and visualize their realtime academic progress in one place. It is a very essential part of every teachers life to identify struggling students in classroom and to help them improve by introducing them to simplified learning techniques.
Why Choose an Online Gradebook over Spreadsheets?
This is a very frequently asked question by most of the teachers and after using and testing 30+ free gradebooks for teachers by myself, today I have a very convincing answer that will make you choose and recommend online gradebook software without thinking twice!
Lets see what makes a gradebook software most effective choice for teachers!
Error-free student report
Instant Student Performance Analysis
Quick Report card preparation
Now, let me convince you!
Organized grades:
I have seen teachers using more than 5 different spreadsheets individually to handles different classes. And whats terrifying is the time they spend in setting up the classes and the confusing formulas to calculate students marks etc.,
Instead, by using an gradebook software, you can not only reduce these manual tasks, but also get a simple easy-to-use platform where you can manage multiple classrooms in the same place.
Error-free Grade Calculations:
Traditional grading involves lot of confusing calculations that are prone to errors. But with modern online gradebooks for teachers that are available, the calculations and conversions can be automated and simple to use.
Its because, "Computers are never wrong".
Easy grade conversions:
Every teacher follows different grading styles like points, grades etc,. Grades also differ from school to school based on the education boards. So it is very important to be able to grade your students using grade scales that matches your teaching style.
Instant student report
Excel sheets can help you manage multiple marks in a single sheet but when it comes to tracking individual performance of a student it's very difficult to view and track their progress. On the other hand gradebook software can help teachers track manage and also visualize each students individual performance in real time and share their progress with parents everyday.
Quick report card
Everyone will agree that the most time consuming task for a teacher is preparing report card for hundreds of students that they teach. Gradebook software helps teachers easily automate these tasks by providing auto generation of digital report card which can be easily exported, printed and also share to parents instantly
Now that we know why a gradebook software is always ahead of spreadsheets when it comes to managing and tracking student progress in one place, let me show you 7 best gradebook software for teachers in 2022.
Redink classroom
Redink classroom
provides free grade book for teachers to easily
track and manage Students learning and helps them visualize their Holistic performance in a single place.
It allows teachers to create multiple classrooms and their actionable indicators helps teachers to easily find struggling students and support them with personalized learning instruction.
I love how redink classroom's gradebook allows teachers to collaborate with co-teachers in real time and also share every students performance and progress with their parents instantly. Its was also extremely easy to move my existing marksheet from spreadsheet to Redink Gradebook within minutes.
Chalk
Chalk
help teacher's to manage Students scores in one please easily. It is well known for its planboard and helps combine students curriculum with assessments to make it easy of them to create lesson plans and also maintain student performance without using separate apps for each need.
Research shows that more than 54 % of teachers feel that juggling between multiple apps for teaching is the most time consuming task for them. So combining lesson planning with student greadebook is what makes chalk great.
Engrade
Engrade
helps teachers to
create assignments, quizzes and flash cards
which is one of my favorite teaching method. It also enable teachers to save comments and also manage student learning in one place.
It is a simple gradebook but I feel that it has very limited features for teachers in its free version. anyhow, The Pro version is available for school districts which allows reports and other advanced features for whole school enrollement.
Thinkwave
Thinkwave
gradebook allows teachers to keep track of students
academic performance
and
share student progress
with parents from one place. It also allows teachers to collect assignments online and share them with students.
I feel that it could have been better in terms of use of friendly on on boarding not allow teachers to add students using import option which can be which could be better
Jumprope
Jumprope Gradebook
enable teachers to collect student grades, organize and assess their academic performance using
standard based grading
. I honestly feel that jumprope is great in terms of usage, but the on boarding process is quite time consuming.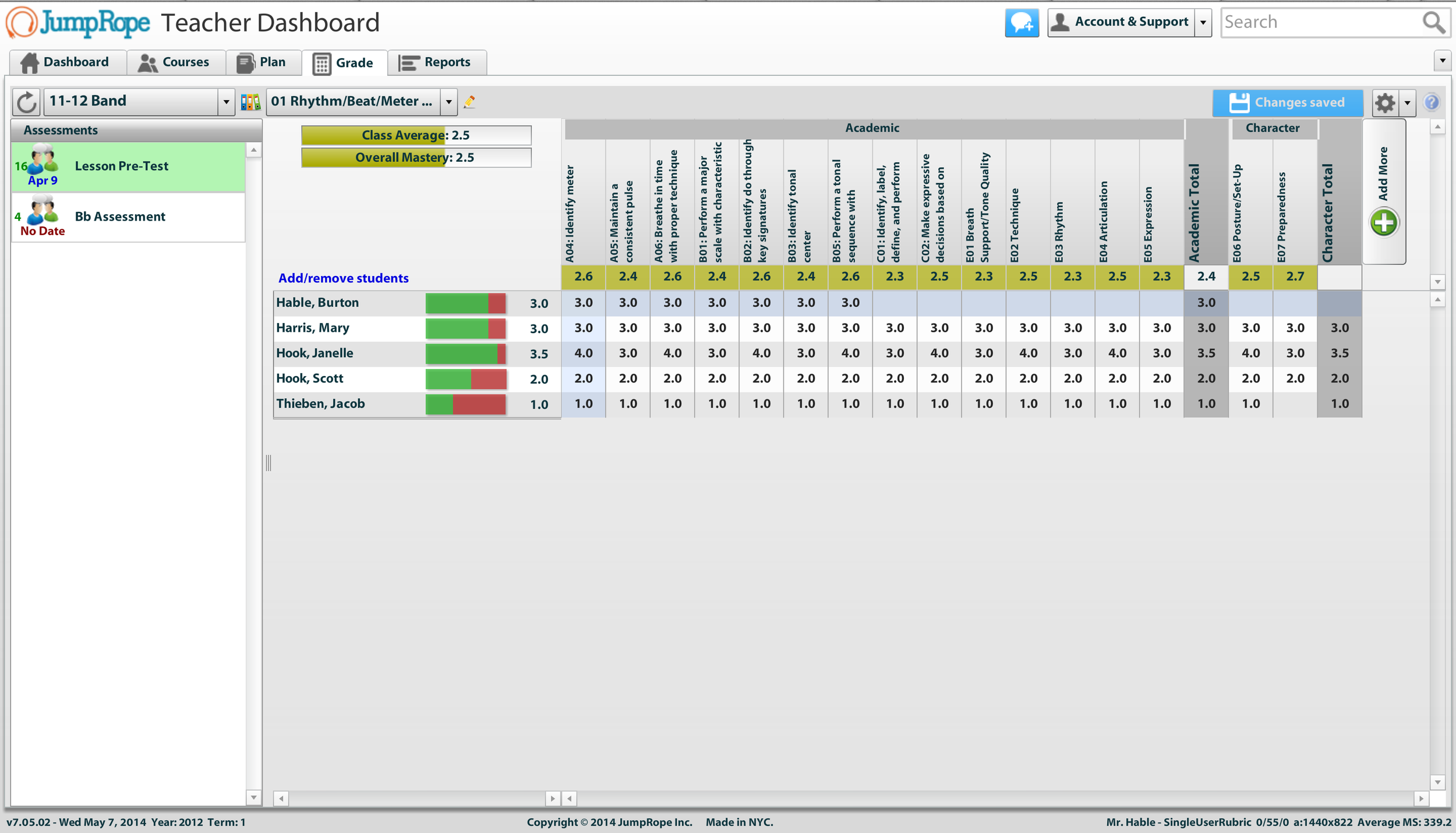 Jupiter Ed
Jupiter Ed
gradebook is a simple grade calculator that helps teachers in standard based grading. It is not a Completely Free Gradebook, It provides 3 months free trial and also usually gets good dicounts when purchased for school districts.
When it comes to individual teachers, Jupiter Ed might not be a very flexible solution.
Otus
Otus gradebook
allows teachers to easily manage students scores with colour indicators to differentiate the learners easily. It focuses mainly on the importance of formative assessments to improve student learning.
Otus is great for teachers who encourage standard based assistance to track student progress not just on the big scale but also concentrate on minute topics and concepts.
Please remember that gradebooks are unique and their own way and there is no one-size-fits-all solution here.
If you have any questions regarding our guide to the best gradebooks for teachers, please do let us know by reaching out to us through support@redink.app.
Read our other related blogs,
Written by
Ebusian Benjamin
A passionately curious entrepreneur and an evolutionary leader who believes in turning ideas into reality. Aiming to set up a mark in the history of education.